Dec 22, 2015
TG Mac Glazing System wins new orders in Italy and Turkey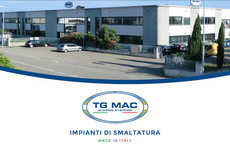 TG Mac Glazing System, a company specialising in the production of glazing lines for the ceramic tile industry, has reported excellent results in 2015.
Along with the major supply contract for the new Dal Tile factory in Dickson, Tennessee (four glazing lines complete with accessories and electrical system), TG Mac has also won new orders in Turkey, where it will supply glaze application machines to Yurtbay Seramik and Seranit Granit Seramik.
The Fiorano Modenese-based company has further strengthened its position in the domestic market with the installation of complete lines for leading companies in the Sassuolo cluster, including Marazzi Group for its facility in Fiorano, Emilceramica for the refurbishment of the Acif and Prisma facilities, and Beta Group.
Source: Ceramic World Web (continue)